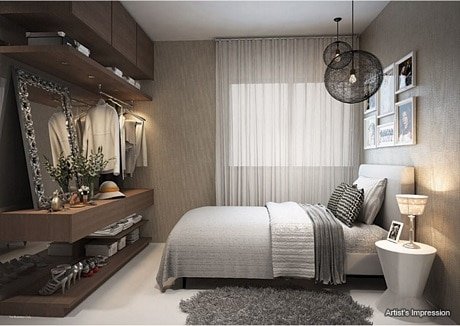 Location

25 Anchorvale Cres, Singapore 544656
About This Listing
Bellewaters is located in Sengkang in District 19, Bellewaters is an executive condominium that is very much focussed on providing affordable high quality and large units. Spread across ten 16 and 17 storey blocks, Bellewaters has 651 3, 4 and 5 bed units. All sizes come with the option of CoSpace units which give the owners the ability to tailor the space to their own personal needs, by adding or removing walls. Bellewaters is situated less than 10 minutes' walk from Farmway LRT which is 3 and 2 stops respectively from Fernvale and Sengkang stations with their modern malls. The TPE runs just behind the development meaning drivers can access that and other expressways quickly, while the picturesque Sengkang Riverside Park is also close by.
Qingjian Realty is part of the Qingjian Group Co. Ltd conglomerate with a business portfolio that extends from real estate development to investments. The Group has been developing buildings since early 1999.
---
Bellewaters – Unique Selling Points
Sengkang New Town and Anchorvale are seeing a lot of development, not just in terms of residential developments such as Bellewaters, but with commercial centres and amenities like Seletar Aerospace Park, Sengkang West Industrial Park and the Sengkang General and Community Hospitals. Bellewaters is ideally situated to take advantage of this. It is close to both the picturesque Sengkang Riverside Park and Farmway LRT which takes you to Fernvale and Sengkang stations with Seletar Mall and Compass Point respectively. Bellewaters also has very competitively priced large units, that come with the ability to add or remove walls in order to adapt the living spaces to your own personal requirements.
---
Bellewaters – Accessibility
Bellewaters is just over 5 minutes' walk from Farmway LRT Station which is just 2 stops away from Sengkang on the North East Line, which is also next to Compass Point. Seletar Mall – the first one in north east Singapore to have a cinema is located at Fernvale LRT, 3 stops from Farmway.
The TPE runs right behind Bellewaters, and from there it is a short drive east onto the KPE and west onto either the SLE or CTE.
Amenities

Air Conditioning

Barbeque

Gym

Swimming Pool

Refrigerator

Washer