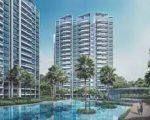 Location

55 Pasir Ris Drive 1, Singapore 519530
About This Listing
The Belysa is a condominium development project that is located in District 18 in Singapore. The Belysa offers a 99-year leasehold tenure to its tenants. One of the greatest advantage that the residents of Belysa can make use of is its extremely high accessibility. There is a lot of bus stop surrounding the development and one MRT station that is within close proximity of the development. Furthermore, the Belysa is suitable for a growing family to live in because it is located close to a number of schools in the area.
The Belysa development project was completed quite recently in the year of 2014 and it was developed by Pasir Ris EC Pte Ltd. Parir Ris EC Pte Ltd is a private company limited by shares and they were incorporated in the year of 2007 in Singapore. Their principal business activity is other holding companies with real estate developers as their secondary activity.
---
Belysa – Unique Selling Points
The Belysa provides basic condominium facilities to its residents. First of all, there is a lap pool provided by the development for the residents who enjoy swimming during their free time. There is also a spa pool for the residents to take some time off and relieve some of the stress from work. There is also a BBQ area for the residents to have nice time of bonding with friends and families over some good old BBQ. Last but not least, there is a clubhouse for other various activities.
---
Belysa – Accessibility
Having relatively high levels of accessibility is one of Belysa's strongest selling points as well. There is a lot of bus stations located within the vicinity of the development project and it is highly convenient for those who often uses the bus to travel around. The nearest bus stop is located opposite BLK 640 which is only about 10 metres of walking distance away from the development. The nearest MRT station that is within walking distance from the development is the Pasir Ris MRT Station which is located only about 15 minutes of walking distance away from the development. As for vehicle owners, the Belysa development project is accessible via some of the major roads and highways such as the TPE, KPE and Loyang Avenue.
Amenities

Air Conditioning

Barbeque

Gym

Swimming Pool

Refrigerator

Washer