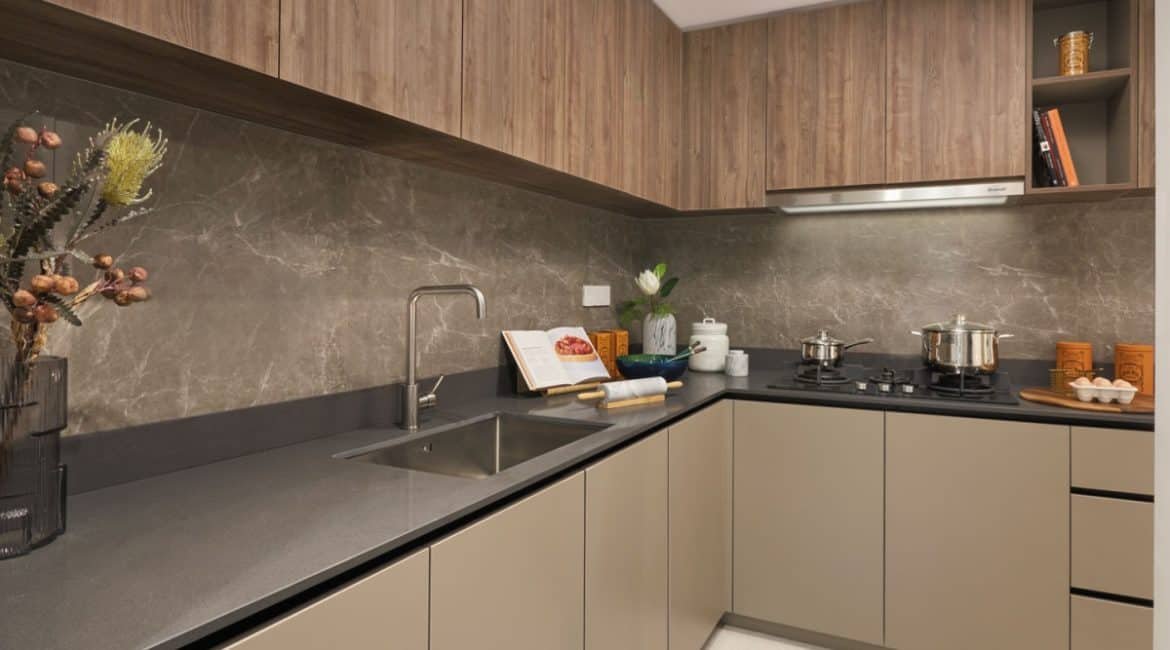 Location

Tengah Garden Walk, Singapore
About This Listing
Copen Grand is a 12-block residential development with 639 units of three, four, and five bedroom apartments spread across 14 stories on a site with a land area of 22,020.8 sq m. Residents enjoy free access to eco-friendly facilities and communal spaces such as function rooms for meetings, the Tree Top Gourmet for hosting guests, as well as rejuvenating spa pools and infinity pools surrounded by lush landscaping. These facilities are spread across the 1st, 4th, and 5th stories of the development.
The site is also designed to maximise cross-ventilation between buildings. Each unit has in-built smart home features and fittings. Units come with enclosed balconies with well selected glass specifications to minimise internal heat gain of spaces
Copen Grand offers residents a wide selection of facilities. With the Tengah area still undergoing further developments, Copen Grand's facilities would help to mitigate the short term lack of entertainment options in the vicinity. Notable facilities found in Copen Grand include a Co-working space, Entertainment Room, Games Room, Music Room, Yoga Studio, Dance Studio, and a Pets Club.
While condos typically only sport basement car parks, Copen Grand features both a basement and multi-storey car park which will provide 516 carpark lots, comprising 6 Electric Vehicle charging stations for powering up sustainable transport.
In line with Tengah being an eco-friendly town, Copen Grand also comes equipped with built-in photovoltaic systems that harness solar energy to provide partial energy replacement for the clubhouse, function room, swimming pool, and gymnasium.
Tengah is set to be Singapore's premier smart and sustainable town and Copen Grand will be the first ever luxury EC in this future-forward neighbourhood.
Copen Grand residents will be spoilt by the unrivalled convenience of the public transport system in the area with not just one, but three MRT stations on the upcoming JRL. There is also a new bus interchange in the works.
Another plus point is that the excellent transport infrastructure grants Copen Grand residents easy access to not only the rest of the island, but also two economic hubs outside of Singapore's city centre. Namely, the Jurong Lake District – the largest commercial and regional centre outside the Central Business District (CBD) – as well as the Jurong Innovation District, a new hub for advanced manufacturing in Jurong West.
---
Accessibility And Amenities Nearby
With Copen Grand being less than a six-minute walk to three MRT stations along the new Jurong Regional Line (JRL) – Tengah MRT Station, Hong Kah MRT Station, and Tengah Plantation MRT station – future residents are impeccably connected to the public transportation network. To be more specific, Copen Grand is conveniently connected to both the North-South Line and East West Line via the JRL. Tengah MRT station is a short two-station ride away from Choa Chu Kang MRT Interchange. Conversely, Hong Kah MRT station is four stations away from Boon Lay MRT station while Tengah Plantation MRT station is just four stations away from Jurong East Interchange that links commuters directly to the CBD area (via City Hall and Tanjong Pagar MRT stations).
The only catch is that JRL is still in the works but the stations are set to open between 2026 and 2027. These dates coincide with when Copen Grand is expected to receive its Temporary Occupation Permit (TOP). This way, homeowners can immediately reap the benefits of the new MRT network upon collecting their keys.
For those who prefer commuting by bus over train, a new Tengah Boulevard Bus Interchange located close to the junction between Tengah Boulevard and Tengah Park Avenue will be constructed.
For those who driver, Copen Grand is conveniently located beside the Kranji Expressway (KJE) and Pan-Island Expressway (PIE). Orchard Road and the CBD are both less than a 30-minute drive away.
Amenities

Air Conditioning

Barbeque

Gym

Swimming Pool

Refrigerator

Washer