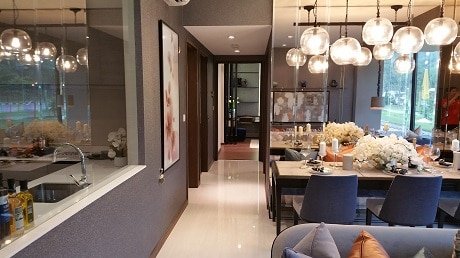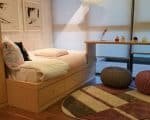 Location

104 Woodlands Avenue 5, Singapore

Build Year

September 2017
About This Listing
Bringing the beauty of nature, home Bellewoods is an Executive Condominium that is exceptional in every way. This is a home that is inspired by nature and designed with a thought process that focuses solely on your needs and desires. Bellewoods creates the perfect environment to surround you and your loved ones with serenity, beauty and comfort that only nature can offer. With no compromise on all the modern conveniences and luxuries that you desire.
The visions of a forest and serenity. Architecture and accents of form and colour. Together with multitudes of experiences with nature, Bellewoods creates a harmonious and fresh living environment for all. Based on the tree bark concept, each space connects together as a series of unique forestscapes, creating a tranquil forest setting framed by lush tropical greenery.
---
Selecting The Best Location
Walk to the Woodlands South MRT station
We've made it possible for you to enjoy the ease of accessibility from home to every part of Singapore, and beyond. Take a leisurely stroll to Woodlands South MRT station and be one stop from the new integrated transport hub at Woodlands Central. This will be where the upcoming Thomson Line will connect with the North-South Line nd also the Rapid Transit Link to Johor Bahru. With this improved connectivity, you could be shopping in either Orchard Road or Johor Bahru within minutes! And for greater convenience, the new North-South Expressway will also help you to save up to 30% of travelling time if you are going to the Central Business District.
Just one MRT stop away from home is one of Singapore's largest suburban shopping malls: Causeway Point. Supplementing this will be the future development of the Woodlands Regional Centre. This will include 30ha of retail options added to the already exciting shopping awaiting you at Causeway Point. Together, they will truly turn Woodlands in a retail and leisure destination! Discover hundreds and hundreds of selections to choose from. You can easily shop, dine, and be entertained till you drop! You can also find shops and eateries closer to home for your daily necessities or if you need a quick bite.
---
Lereraging On The Site
The best of life, conveniently close
Exciting changes will transform 100ha Woodlands Regional Centre into the future metropolis of the North! Consisting of two precincts, one will be a scenic waterfront destination with a dynamic mix of business, residential and lifestyle uses. The other will have a vibrant 30ha regional retail hub with community and leisure amenities and a lively street experience. Shop, dine, be entertained and come together for fun-filled community activities and events. Woodlands is also home to numerous educational institutions for every level. Growing families will appreciate the number of primary schools surrounding your vicinity. Greenwood Primary, Innova Primary, Qi Hua Primary are just some well-known primary schools near to Bellewoods.\
---
Nature's Wonders
Focusing on the greener side of life
Bellewoods is near to many parks, including the scenic Woodlands Waterfront. This park consists of a 1.5km waterfront promenade, an 11ha park, a restaurant, a 400m jetty and a large playground where the kids can explore the Sky Cabins and Sky Bridge. Close by, you can marvel at the flora and fauna at Admiralty Park's 7ha urban park and 20ha nature reserve. You can even go on a fun bicycle ride on the park connectors.
For serenity amidst nature, visit the nearby Upper Seletar Reservoir Park for a picnic close to the tranquil waters or to enjoy the breathtaking views of the iconic tower. With so much greenery around, this is truly the place to enjoy all nature has to offer.
---
Developing The Lifestyle
Come home to wooded serenity
While many may offer resort-style living, we've decided to elevate it by giving you an oasis of nature. Here, you and your loved ones can live and grow amidst wooded serenity with a wealth of luxurious choices for recreation and leisure. Bellewoods is proud to offer you six zones of indulgence, which are inspired by the beauty of nature and the different types of forests.
Be welcomed by an impressive canopy and the iconic floating stairs at the Arrival Foyer, where walkways and decks sweep in elegant lines to invite you to floating poolside Clubhouse and the array of pools catering to both the playful and the serene. You can enjoy a splashing good time with the kids at the Aquatic Forest Pool or the Aquatic Playground. Across the Aquatic Forest, discover a host of recreational activities including the Barbecue Terrace, Tennis Court and a Playground that cocoons the area with lush greenery.
The Urban Forest zone is where the visually stunning 50m Infinity Pool appears to stretch into the horizon. As you swim in this magnificent pool, it would seem like the crystal waters is merging with the natural paradise landscape. And with tranquil views of the pool, prepare to calm your senses at the Wellness Forest zone. Scented by a fragrant centrepiece tree, all manners of relaxation can be found here, including the unique Hydro Spa Beds. Recline on one and discover absolute bliss.
Amenities

Air Conditioning

Barbeque

Gym

Swimming Pool

Refrigerator

Washer